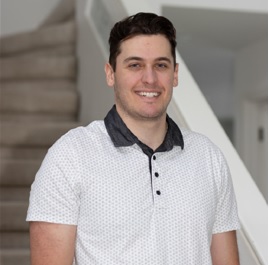 Dr. Zach Odwak attended Northwestern Health Sciences University in Minneapolis, Minnesota and graduated Cum Laude in October of 2022.
Dr. Zach decided he wanted to be a chiropractor during his first year of undergrad at University of Manitoba when in his general anatomy lab and learning about the human body, specifically the brain and nervous system. Throughout his education he has become fascinated with the musculoskeletal system and has learned how important it is to live a healthy, pain free lifestyle.
He grew up playing many different sports including baseball, golf, volleyball, badminton and his main focus, hockey. Playing high level hockey his entire life and ending his career in the MMJHL led him to seek out chiropractic treatment for his nagging injuries that he put off for many years and with treatment has maintained comfort in his day to day life.
Dr. Zach focuses on an individualized approach to treatment of his patients. He is expanding his education with seminars and webinars to further help his patients. Mainly performing diversified adjustments with additional myofascial release techniques, mobilization and exercises during treatments.
His main priority is to help you achieve your goals in treatment and help teach you tips and tricks to help improve your day to day lifestyle.